Last Updated on February 5, 2023
When you are in pain, it can be a struggle to find relief. There are many chiropractor Portland providers in the area, but it can be hard to find the right one for your needs. If you are searching for the best chiropractors, here are the clinics you can trust.
Inner Gate Health & Wellness
At Inner Gate Health & Wellness, we understand that the path to health is unique to every individual. The team works to help those lead better and pain-free lives, but everyone can achieve that differently. Inner Gate Health & Wellness creates a customized plan for every patient. Our chiropractor Portland clinic focuses on optimal patient health.
Inner Gate works hard to maintain the health of its returning patients. For that reason, they only deliver exceptional results with each session. Our chiropractors use gentle techniques to achieve outstanding results. Drop tables, activator adjustments and soft tissue work all make adjustments gentle and well tolerated. Our goal is to keep our patients informed about the latest research, along with being the best portland chiropractic clinic.
We will be there to help every individual achieve their healthcare goals. Inner Gate Health & Wellness treats sports injuries, vehicle injuries, pain management, digestion problems, immune system issues, mental health, generalized pain, fertility, allergies, emotional health, and cancer care. Along with chiropractic care, Inner Gate offers acupuncture, massage therapy, and naturopathy.
Are you suffering from pain and looking for help? At Inner Gate Health & Wellness, we have a wide range of Portland chiropractic treatments that can help you become pain-free.
Related: Chiropractic, Pain, and Strength Training
Hosmer Chiropractic Health
This chiropractic clinic was founded in 2007 by Dr. Seth Hosmer. The Hosmer Chiropractic Clinic offers treatment for many medical conditions, including chronic pain, sports injuries, car accidents, post-surgical rehabilitation, musculoskeletal aches and pain, and repetitive overuse injuries. Their chiropractic treatment philosophy is based on three principles:
Provide safe and effective treatment.
Understand the patent, including their goals and medical history.
Educate the patient about medical health.
Hosmer's one goal is to help the patient. This clinic does not just provide treatment but provides the tools and education to maintain their health and get back to their previous lifestyle. In addition, this clinic wants its patients to be confident and comfortable with their healthcare choices. They offer a complimentary consultation for new patients to focus on treatment options. Hosmer Chiropractic Health has a team of chiropractic doctors and massage therapists who provide services to the Portland community.
Back To Life Chiropractic
The Back To Life Chiropractic clinic is committed to helping individuals achieve complete mental and physical wellness. By helping to restore proper spinal function, the body can heal itself. Patients can use their services in a state-of-the-art faculty that offers the highest quality care in the area. Protecting the well-being of their patients is the top priority of the clinic. Back To Life treats all its patients as if they were part of the family. M
aking an appointment is easy. Patients are encouraged to email or call that office, but walk-ins are also welcome. The office handles both emergency calls and appointments, and there is always someone to answer questions from new patients. Along with that, Back To Life can help with those insurance forms.
Since they want to focus on the patient's overall wellness, the staff understands how stressful it can be to deal with insurance companies. This clinic will work to help you afford the options for treatments, and they accept payments in the form of credit card, cash, or check. Back To Life Chiropractic offers a wide range of services, including massage therapy, spinal adjustments, laser therapy, and auto injury treatments.
Whether you're seeking pain relief or preventative care, this clinic's patient-centric approach differs from any healthcare experience. For that reason, Back To Life has a reputation for being a comprehensive chiropractic clinic in Portland. When you are looking for help with your health, you can stop for a free consultation anytime.
Related: Chiropractor for Sciatica
Overlook Chiropractic Clinic
Overlook Chiropractic Clinic has a highly trained staff ready to guide their patients through their health concerns. Whether an individual is suffering from new or old injuries, Overlook will address those specific needs to help patients reach their optimal health and wellness. When someone has recurring pain or suffers from an old injury, it can affect their quality of life.
Overlook focuses on an integrated approach to the human body to identify the root of the problem. This clinic uses treatments that focus on the natural forces of healing, including electricity, exercise, massage, strengthening, traction, and temperature. Overlook Chiropractic Clinic offers massage therapy, active release techniques, therapeutic exercises, custom orthodontics, Graston techniques, and athletic taping.
Dr. Michael Raeburn has been practicing chiropractic treatments since 2006. He is board eligible in the sports diplomat program (DACBSP), received the Certified Chiropractic Sports Physician (CCSP) credential, and specializes as a sports physician.
Well-rated by verified patients, Overlook Chiropractic puts its patients first, creating personalized plans tailored to their patient's specific needs. They see a wide variety of ages, injuries, and health needs, making them a great choice for your whole family. You should consider this clinic for treatment if you've been injured or have continual pain.
Related: Chiropractor for TMJ: The Ultimate Guide
Premier Care Chiropractic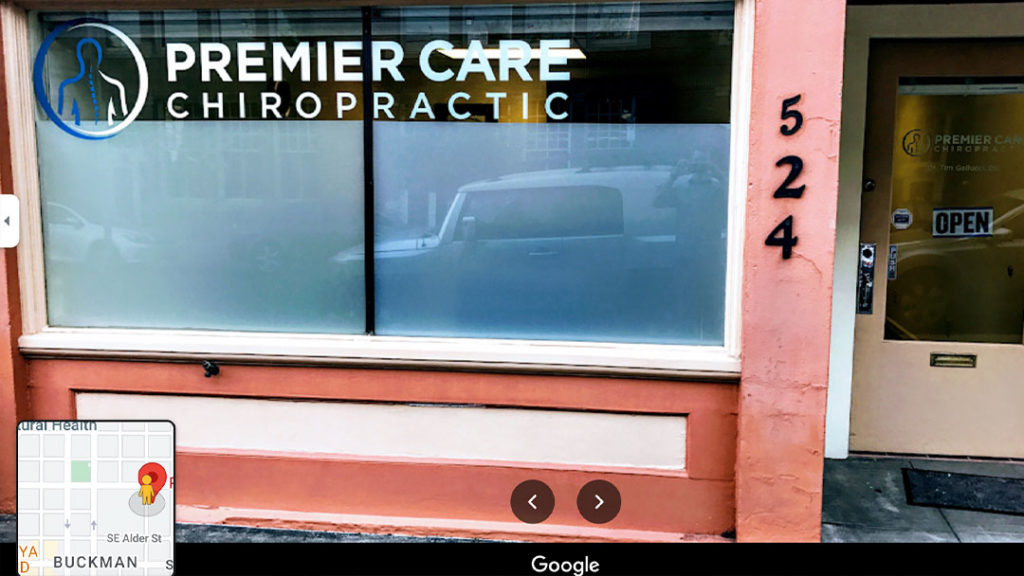 Primary Care Chiropractic takes pride in helping patients live better, pain-free life. They believe everyone should have access to quality healthcare, and no one deserves to live in pain. This clinic focuses on doing everything to deliver the best treatment options for those in any financial situation. Premier Care has deemed itself the "best chiropractic clinic for car accident injuries." These medical professionals use different techniques and tools to relieve their patients' pain as quickly as possible.
When someone goes to the clinic, their chiropractors will devise a treatment plan to help them live a pain-free experience. This clinic offers chiropractic adjustments, acupuncture, massage therapy, and rehabilitative services.
Aspire Chiropractic
If you want one of the best chiropractors in Gresham, Oregon, you'll want to check out Aspire Chiropractic. A full-service chiropractic clinic in the Portland area, Aspire specializes in several treatments:
Auto Injury
Back
Neck
Decompression
Sports Injury
Work Injury
Personal Injury
Aspire's lead chiropractor is Dr. Mark Betsill, who has over ten years of clinical experience treating patients for injury and pain. Dr. Betsill's patients range in age from infants to adults. He believes in healing the body's physical, chemical, and emotional stresses through chiropractic adjustments, exercise, massage, and a healthy diet.
Aspire offers a phased system of care to ensure optimal healing:
Phase 1: Relief Care: During this phase of care, they focus on reducing symptoms, which may mean several adjustments per week.
Phase 2: Corrective Care: This phase is focused on eliminating symptoms by providing additional adjustments after the symptoms are gone. This also includes starting exercises and stretches to accelerate healing.
Phase 3: Wellness Care: The maintenance phase recommends occasional adjustments, exercise, and diet to fortify your health and body.
Ready to schedule a chiropractic adjustment? Book an appointment with our experienced clinical chiropractor.
Related Link: Self Chiropractic: Is it Good or Bad?
Bridgetown Chiropractic
Bridgetown Chiropractic is another excellent chiropractic clinic with three locations: Portland, North Portland, and Happy Valley. Bridgetown has four accomplished chiropractors with a wealth of experience:
Dr. Dwight Reid has been practicing since 2006. He specializes in musculoskeletal conditions and injury recovery.
Dr. Jacob May graduated in 2004 and has the most experience on the team. He considers himself a family chiropractor seeing patients of all ages. He specializes in sports therapy and soft tissue modalities.
Dr. Rigel Wise received his doctorate in 2012 and is a licensed massage therapist. He specializes in soft tissue, deep tissue massage, and active exercise as part of treatment.
Dr. James Taylor is a National Guard veteran and has experience as a medic for trauma. He specializes in soft tissue modalities, functional range release, and facial distortion.
Bridgetown Chiropractic takes a whole-body approach to health by creating personalized treatment plans that incorporate chiropractic adjustment, nutrition, and exercise. Their doctors are committed to providing quality customer care to help their patients return to optimal health.
The clinic prides itself on being accessible to meet the needs of its patients by offering same-day appointments for emergencies. They also have Saturday office hours in their Portland locations because they understand that weekdays are not always ideal.
If you prefer having access to a team of chiropractors from multiple locations in Portland, then you'll want to consider Bridgetown Chiropractic. Their variety of services, techniques, and specialties can treat most conditions and injuries.
Accident Care Chiropractic
One of the best-rated clinics in southeast Portland, Accident Care Chiropractic has been a trusted clinic since 2008. Accident Care Chiropractic specializes in car accident injuries, helping thousands of patients fully recover. A full-service clinic, they offer a wide range of services:
Auto Injury Recovery
Chiropractic Adjustment
Physical Therapy
Electrical Stimulation
Rehabilitation Exercise
X-Rays
Massage Therapy
Acupuncture
Cupping
Dr. Alexis Lee founded Accident Care Chiropractic with twenty-three chiropractors spread between their sixteen locations around Portland, Oregon, and Washington. This is the largest clinic on our list, and they have a chiropractor to fit your specific need and location.
Dr. Alexis Lee wanted to create a clinic that focused on treating injuries from work and auto accidents. Since its founding, the clinic has grown in specialty, locations, and team. They cater to the customer, providing same-day appointments and targeted treatments for your specific needs.
Accident Care Chiropractic has four offices in the Portland area, including northeast, southeast, Gresham, and Clackamas. If you have been injured recently, consider their clinic because of their experience and customer care.
Related Link: How Often Should You Go See a Chiropractor?
How We Chose The Top Chiropractors in Portland, Oregon
Choosing your chiropractor is a personal decision, and we want to help you make the perfect one. We chose these chiropractors based on their training, credentials, experience, communication, techniques, and more.
We also omitted some chiropractic clinics from our list by checking for red flags like curing ailments outside of their profession, not creating personalized patient plans, and foregoing ongoing assessments and goals.
Overall, you'll be in good hands with any of these eight chiropractors in Portland, Oregon.
Are chiropractic adjustments painful?
One reason people avoid seeing a chiropractor is that they fear that getting an adjustment will hurt. However, even though the movements and gentle pressure might feel slightly uncomfortable during your first visit, your adjustment shouldn't be painful!
Almost everyone who puts off visiting a chiropractor because they think it will hurt often wishes they had gone sooner.
Many patients describe the feeling of a chiropractic adjustment as an instant feeling of release, offering relief from their painful conditions.
The areas your chiropractor works on might be a little tender or sore after the adjustment, but those feelings are normal and should not feel like pain.
How long does a chiropractic adjustment last?
There's no simple answer for how long you can expect your chiropractic adjustment to last—it varies based on individual factors. Everyone responds to chiropractic adjustments differently, and the time frame and plan of treatment change based on your:
Spinal alignment: It's not uncommon to have a misaligned spine, and injuries aren't always the cause—sleeping in the wrong position, craning to look at a screen all day, etc., can cause damage to your spine. If your spine is misaligned, you'll likely require adjustments more often (at least in the beginning).
Type of injury: The reason why you need an adjustment also affects how long each session will last—for example, numerous injuries to your head or neck can weaken your spine, making it challenging for it to hold an adjustment.
Muscle and ligament strength: The strength of your neck muscles is a determining factor of how long your chiropractic adjustment will last—the weaker the ligaments and muscles in your neck, the shorter amount of time you will hold an adjustment.
What do you wear to a chiropractor?
If you're getting ready for your first chiropractic adjustment, you're likely wondering what to wear. As long as you don't wear anything that might impede your adjustments, there's no special dress code for visiting the chiropractor. However, we do have some tips:
Thin, stretchy fabrics work best—they make it easier for your chiropractor to feel out any problems.
Don't wear too many layers—we know the Portland, Oregon winters can be brutal at times, but dressing in too many layers makes your chiropractor's job more difficult.
Skip the skirts and dresses—shorts and pants are best for your chiropractic visit; you'll likely have to take various positions, and we always want you to feel comfortable.
Avoid wearing jewelry—hats, bracelets, watches, necklaces, belts, and other accessories can easily fall off or get tangled in your hair or clothing as you move around in the office. In addition, if you require any x-rays, you'll have to remove them anyway.
How often should you see a chiropractor?
Depending on your health situation and preferences, you might benefit from weekly or monthly benefits. As it's on a case-by-case basis, you should always ask what your chiropractor recommends to get the best treatment.
For example, if your chiropractor suggests multiple visits after your first session to follow up and address a problem, it's in your best interests—they know how to schedule you so that you get the most benefit from their chiropractic care.
As a general rule:
Urgent cases will typically require multiple visits in the first few weeks of treatment.
Rehabilitative cases could only occur a few times each month.
Chiropractic maintenance typically requires fewer visits.
Is chiropractic adjustment better than massage?
One isn't necessarily better—however, they are better for different things. Holistic treatments like chiropractic care and massage therapy can greatly help reduce or eliminate your pain, but how do you choose your treatment?
Chiropractic adjustments are great for aligning your musculoskeletal system (spine, tendons, and muscles). This treatment primarily focuses on aligning the spin and specific joints to relieve pain. It treats common pain points like the lower back, neck, and headaches.
On the other hand, massage therapy focuses on stimulating the muscles and doesn't usually treat pain associated with tendons, joints, or the spine. Many people prefer getting a chiropractic adjustment followed by a massage to promote additional healing, reduce inflammation further, and decrease their discomfort.
Is a chiropractor good for anxiety?
You might be surprised to discover that chiropractic care can help ease anxiety—it does relax the body, after all.
Chiropractic adjustments can help improve sleep, which can reduce anxiety symptoms.
They can also stimulate hormones like cortisol, oxytocin, and neurotensin, which helps decrease stress and the discomforts associated with it.
Chiropractic care takes a holistic approach, focusing on the whole body instead of solely treating your symptoms.
Getting a chiropractic adjustment can help relieve common anxiety symptoms like muscle tension, fatigue, restlessness, and difficulty falling or staying asleep.
What should you not do after visiting a chiropractor?
Many of us know what you should do after an adjustment—drink lots of water, keep moving with light activities, get plenty of rest, and keep your back as straight as possible. However, what about the things you shouldn't do after seeing a chiropractor?
It's best to avoid:
Eating fatty, fried, and processed foods: Eating healthy after your adjustment helps your body recover by replenishing nutrients, allowing your injuries to heal faster. Unhealthy foods can encourage inflammation, slowing the healing process and causing pain.
Explosive movements: While staying active after your adjustment is important, avoid heavy weightlifting, contact sports, and other intense exercises.
Sitting too much: Sitting too much isn't great for your back (even with the best supportive chair). Try to keep moving and hold your spine in a neutral position.
Final Thoughts on Chiropractors in Portland
Living with pain can be a challenging experience for anyone. Trying to find the right help for relief is only a phone call away. With this list, you can find the best chiropractic care in Portland.
Are you ready to live a pain-free life? At Inner Gate Health & Wellness, we can design treatment plans that can help you alleviate your medical issues for a more balanced life.