Last Updated on August 30, 2022
When you are in pain, it can be a struggle to look for relief. There are many providers in the Portland area, but it can be hard to find the right one for your needs. If you are searching for the best chiropractors, here are the top five in the area.
Are you suffering from pain and looking for help? At Inner Gate Health & Wellness, we have a wide range of solutions that can help you achieve optimal health.
Inner Gate Health & Wellness
At Inner Gate Health & Wellness, we understand that the path to health is unique to every individual. The team works to help those lead better and pain-free lives, but everyone can achieve that differently. Inner Gate Health & Wellness will create a customized plan for every patient. With that, our Portland chiropractic clinic focuses on optimal patient health. Inner Gate works hard to maintain the health of its returning patients. For that reason, they only deliver exceptional results with each session. These professionals focus on their research to help patients overcome various medical issues.
Additionally, Inner Gate keeps its patients' informed about the latest research, along with providing the best care in Portland. They will be there to help every individual achieve their health care goals. Inner Gate Health & Wellness treats sports injuries, vehicle injuries, pain management, digestion problems, immune system issues, mental health, generalized pain, fertility, allergies, emotional health, and cancer care. Along with chiropractic care, Inner Gate offers acupuncture, massage therapy, and naturopathy.
Related: Chiropractic, Pain, and Strength Training
Hosmer Chiropractic Health
This chiropractic clinic was founded in 2007 by Dr. Seth Hosmer. The Hosmer Chiropractic Clinic offers treatment for many medical conditions, including chronic pain, sports injuries, car accidents, post-surgical rehabilitation, musculoskeletal aches and pain, and repetitive overuse injuries. Their chiropractic treatment philosophy is based on three principles:
Provide safe and effective treatment.
Understand the patent, including their goals and medical history.
Educate the patient about medical health.
Hosmer's one goal is to help the patient. This clinic does not just provide treatment but provides the tools and education to maintain their health and get back to their previous lifestyle. In addition, this clinic wants its patients to be confident and comfortable with their healthcare choices. They offer a complimentary consultation for new patients to focus on treatment options. Hosmer Chiropractic Health has a team of chiropractic doctors and massage therapists who provide services to the Portland community.
Back To Life Chiropractic
The Back To Life Chiropractic clinic is committed to helping individuals achieve complete mental and physical wellness. By helping to restore proper spinal function, the body can heal itself. Patients can use their services in a state-of-the-art faculty that offers the highest quality care in the area. Protecting the well-being of their patients is the top priority of the clinic. Back To Life treats all its patients as if they were part of the family. Making an appointment is easy. Patients are encouraged to email or call that office, but walk-ins are also welcome. The office handles both emergency calls and appointments, and there is always someone to answer questions from new patients. Along with that, Back To Life can help with those insurance forms.
Since they want to focus on the patient's overall wellness, the staff understands how stressful it can be to deal with insurance companies. This clinic will work to help you afford the options for treatments, and they accept payments in the form of credit card, cash, or check. Back To Life Chiropractic offers a wide range of services, including massage therapy, spinal adjustments, laser therapy, and auto injury treatments. Whether you're seeking pain relief or preventative care, this clinic's patient-centric approach differs from any healthcare experience. For that reason, Back To Life has a reputation for being a comprehensive chiropractic clinic in Portland. When you are looking for help with your health, you can stop for a free consultation anytime.
Related: Chiropractor for Sciatica
Overlook Chiropractic Clinic
Overlook Chiropractic Clinic has a highly trained staff ready to guide their patients through their health concerns. Whether an individual is suffering from new or old injuries, Overlook will address those specific needs to help patients reach their optimal health and wellness. When someone has recurring pain or suffers from an old injury, it can affect their quality of life.
Overlook focuses on an integrated approach to the human body to identify the root of the problem. This clinic uses treatments that focus on the natural forces of healing, including electricity, exercise, massage, strengthening, traction, and temperature. Overlook Chiropractic Clinic offers massage therapy, active release techniques, therapeutic exercises, custom orthodontics, Graston techniques, and athletic taping.
Related: Chiropractor for TMJ: The Ultimate Guide
Premier Care Chiropractic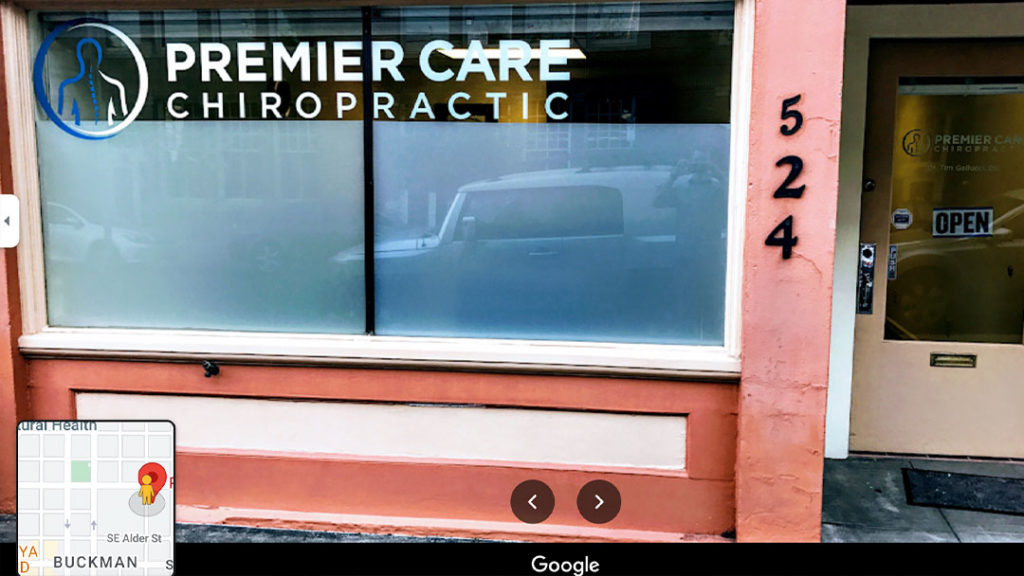 Primary Care Chiropractic takes pride in helping patients live better, pain-free life. They believe everyone should have access to quality healthcare, and no one deserves to live in pain. This clinic focuses on doing everything to deliver the best treatment options for those in any financial situation. Premier Care has deemed itself the "best chiropractic clinic for car accident injuries." These medical professionals use different techniques and tools to relieve their patients' pain as quickly as possible.
When someone goes to the clinic, their chiropractors will devise a treatment plan to help those live a pain-free experience. This clinic offers chiropractic adjustments, acupuncture, massage therapy, and rehabilitative services.
Final Thoughts on Chiropractors in Portland
Living with pain can be a challenging experience for anyone. Trying to find the right help for relief is only a phone call away. With this list, you can find the best chiropractic care in Portland.
Are you ready to live a pain-free life? At Inner Gate Health & Wellness, we can design treatment plans that can help you alleviate your medical issues for a more balanced life.